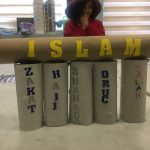 Staten Island NY NEICC & TCC Weekend School program offers a variety of classes and subjects for students.
Quran class:
Today we did ط، ت، د letters. Kids used different level worksheets and learned the letters in different positions.
Turkish class:
Kids learned colors in Turkish language and did activities according to the lesson.
Character education:
Today's lesson was about "Five Pillars of Islam". Kids did activities used worksheets.
Activities and out of class club:
Today we made snowman out of sock and rice.